The Scythe Thermal Elixer 2 provides excellent heat transfer between the processor and heat sink without compromising the application. High-quality ingredients in combination with the Pure Aluminum Particle Hybrid technology reduce the thermal resistance significantly and allow a convenient and controlled application. It has an excellent long-term stability and has no electrically conductivity under normal use. The applied thermal grease is ready to be used right away and no "burn-in" time is required.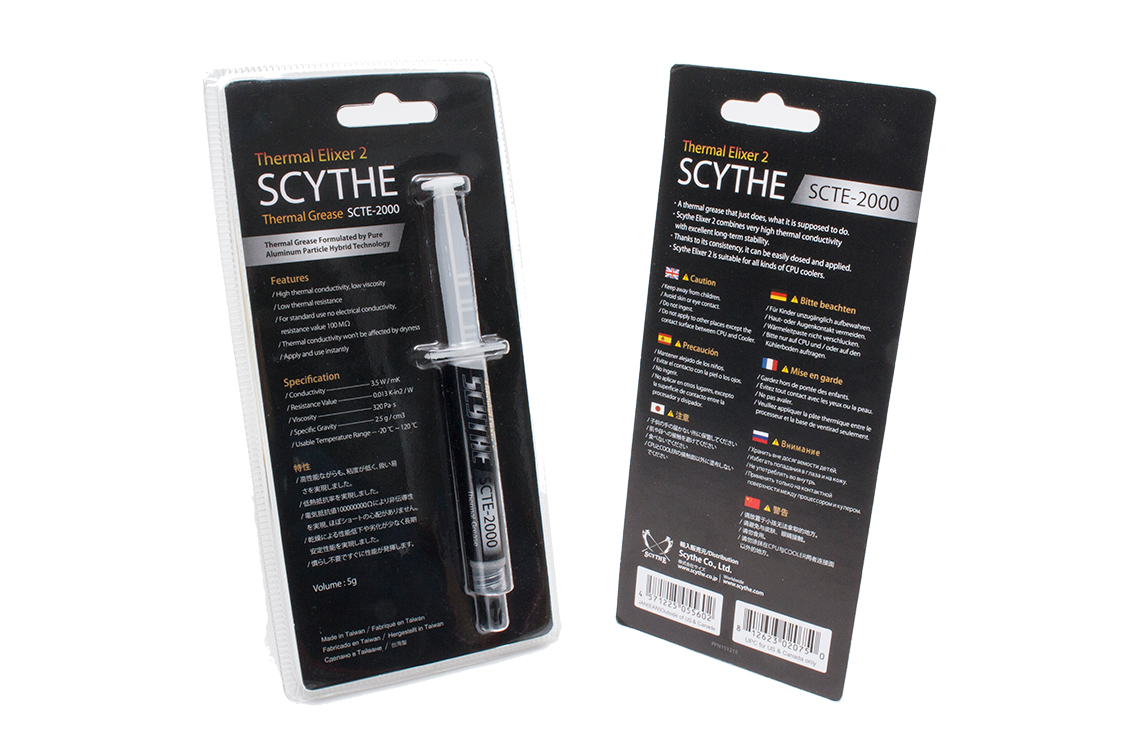 Excellent Cooling Performance
With the focus on the PC sector Pure Aluminum Particle Hybrid Technology is used to optimize the heat transfer between CPU and heat sink. The Thermal Elixer 2 has a very high thermal conductivity and low thermal resistance. A special additive composition provides an excellent long-term stability and extremely low dry-out characteristics.
The consistency allows easy and economic application. Even removing the applied thermal grease is easily. Furthermore, it has a very low dielectric constant / high dielectric strength and no corrosive properties. There is no risk of short circuit, even if the thermal compound covers electrically conductive components.
Model Name :
Model No :
Weight :
Thermal Resistance :
Thermal Conductivity :
Temperature Range :
Dielectric Strength :
Ingredients :
Scythe Thermal Elixer 2 Thermal Grease
SCTE-2000
5g / content
0.013 K-in²/W
3.5 W / (mK)
-20° ~ 120°C
1.5 KV / mm
Aluminum (~ 70%) Zinc Oxide (~ 20%)