Based on the classic Mugen 5 platform, this new edition comes with an all-black matt finish cpu cooler with a black Kaze Flex 120 fan that has vibration absorbers in the corners of the frame and the unique, enclosed fluid dynamic bearing (Sealed Precision FDB) which is why the Mugen 5 Black Edition is the premium choice of excellent performance and superb quietness.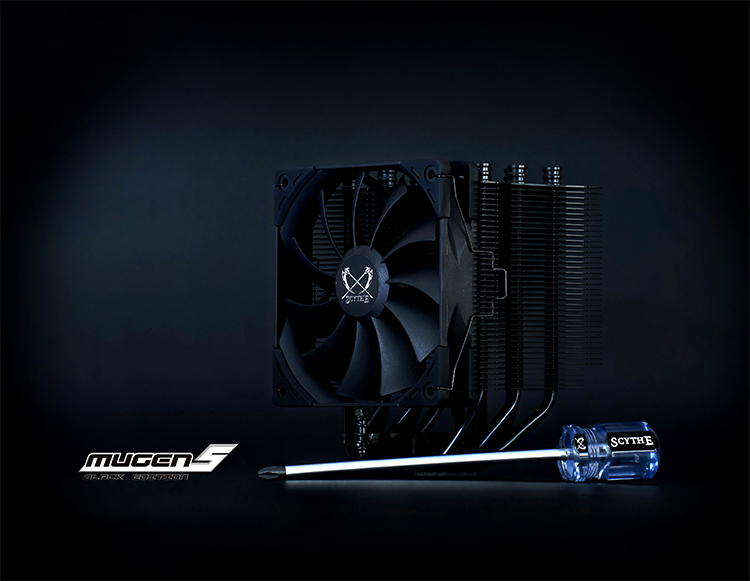 The asymmetrical heat sink design offers excellent access to memory banks and enables the use of RAM modules and graphic cards even on LGA 2011 (V3) / LGA 2066 motherboards. Standing only 154.5 mm tall, the Mugen 5 Black perfectly fits most tower cases on the market.
Top-Tier Cooling Performance
This new edition comes with an all-black Kaze Flex 120 mm fan (300 rpm to 1500 rpm) and six copper heat pipes coated in matt black, each 6 mm thick that pushes its performance to the next level.  Upgraded mounting system and additional fan clips fit seamlessly into the new style.
The entire cooler (heat sink and heat pipes) is e-coated with matt black finish. The aluminum top plate was engraved with a striking diamond-cut Scythe logo. This cooler not only looks good in style but also fits well with most popular colour themes.
The Black Edition comes with a new third generation High-Precision Mounting System, supporting the latest Intel / AMD sockets on the market, and makes the installation process much easier.