Simple elegance is the motto of the Mugen 5 Black ARGB Edition. The black anodized top-plate forms a sharp contrast to the aluminum endcaps of the heatpipes and the diamond-cut Scythe logo. The fan frame is also completely black and fits seamlessly into the overall design, while the ARGB lighting sets a colorful accent. On the technical side, the Mugen 5 Black ARGB scores with the award-winning performance metrics of its predecessors. Six heatpipes and a baseplate made of nickel-plated copper, dissipate the heat into the spacious heat sink.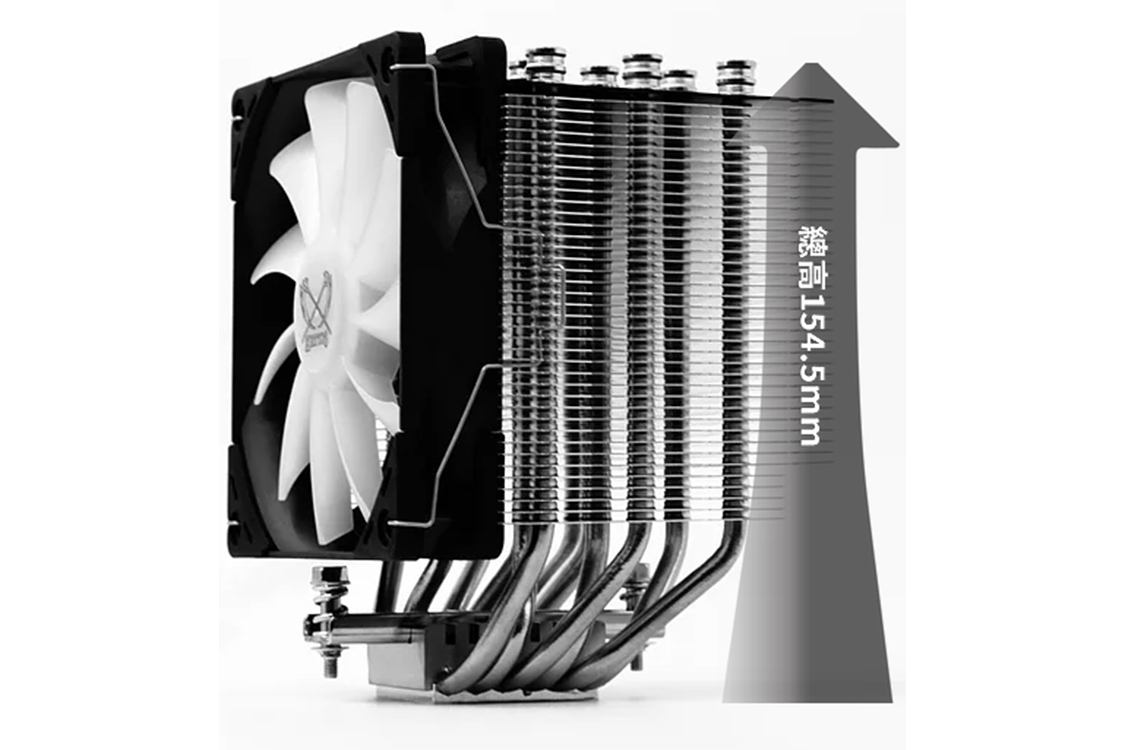 Top-Tier Cooling Performance
Classic 120mm tower design with 6 sintered heatpipes and copper base ensure superior performance, ideal for mainstream, gaming, overclock with high TDP CPUs. Stands only 154.5mm in height, Mugen 5 provides excellent compatibility with popular cases on the market.
Excellent RAM Compatibility
The asymmetrical design provides excellent access to memory slots (front bank) and would not overhang the RAM even with tall heat spreader, the cut-out fin (55 mm) in the rear allows full compatibility on LGA 2066 / LGA 2011(V3) motherboards and platforms.
16.8 Million Color Combinations
The Kaze Flex 120 ARGB PWM fan is the first Scythe fan with addressable RGB LEDs. Eight individually controllable LEDs illuminate the translucent fan blades and enable complex color effects and gradients. The fan is equipped with a self-contained fluid bearing (Sealed Precision FDB)  that significantly reduces the friction that occurs during operation and thus achieves a lifespan of up to 120 000 hours, as well as a high running smoothness. The rubber decouplers, which are kept entirely in black, fit optically into the overall design and reduce the transmission of any vibrations. The LEDs can be controlled directly via 3-pin 5V ARGB header.
Scythe's HPMS III mounting system provides users with a unique combination of quality, safety and ease of use. The hexagon-shaped screws smoothly hook into the backplate, facilitating a convenient and user-friendly installation process. In combination with rubber / plastic spacers the system guarantees perfect contact pressure and maximum convenience on all current sockets.
Model Name :
Model No :
Socket :
Dimension :
Heatpipe :
Weight (Fan Included) :
EAN :
Fan  Specification
Model Name :
Fan Size :
Fan Speed :
Airflow :
Static Pressure :
Noise :
Voltage :
Rated Current :
Connector :
ARGB Fan LED Connector :
ARGB Fan LED :
ARGB Fan Rated Current :
MUGEN 5 ARGB
SCMG-5100BKA
Intel: LGA 2066 / 2011(V3) / 1366 / 1200 /115X / 775
AMD: AM4 / AM3(+) / AM2(+) / FM2(+) / FM1
(W) 136.0 x (D) 110.5 x (H) 154.5 mm
Φ6 mm x 6
890 g
4571225057873
Kaze Flex 120 ARGB PWM – 1500 RPM
(W) 120 x (D) 120 x (H) 27 mm
300 ± 200 ~ 1500 ± 10% RPM
16.6 ~ 66.47 CFM / 28.20 ~ 112.93 m³/h
0.0762 ~ 1.67 mmH²O / 0.75 ~ 16.38 Pa
4.0 ~ 29.75 dBA
12 V
0.2 A
4 Pin PWM
3 Pin (+5V,D,_,G), With 3 Pin ARGB Splitter
10 PCS
0.5 A