At 17 mm only in height, the Kaze Flex 120 mm slim case fans are particularly suitable for cases with a smaller form factor, such as HTPCs and Mini-ITX PC, where there is not enough space for a regular fan with a height of 25 mm. The expected Kaze Flex series performance is maintained despite the reduced height. Thanks to the unique Sealed Precision FDB bearing, the fans run exceptionally smoothly and have an average service life of over 100,000 hours. The decouplers installed in the fan frame minimize the transmission of vibrations and thus ensure a pleasantly low operating noise.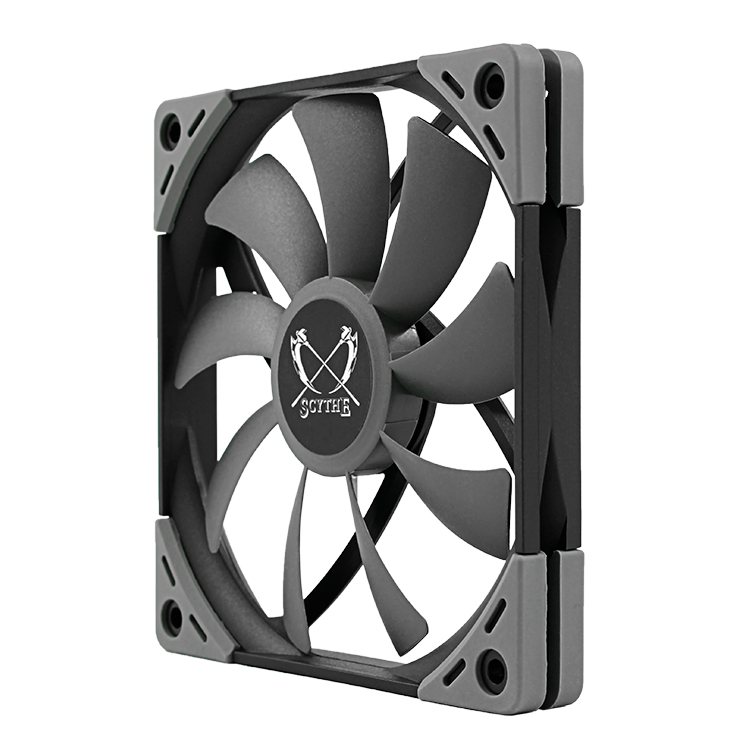 Kaze Flex Series are equipped with a self-contained fluid dynamic bearing (Sealed Precision FDB). The bearing and the spindle are made entirely of high quality compressed metal and lubricated by a special oil film resistant to temperatures of up to 250C° / 480F°. This drastically reduces friction, ensuring smooth operation and minimized wear, which results in an average life-span of 100 000 hours.
Space-saving design with a frame height of just 17 mm. The height can be reduced further to 15 mm by removing the decouplers.
The Kaze Flex fan series is equipped with vibration and shock absorbing rubber pads which cover the tunnelless mounting holes. These decouplers effectively eliminate possible vibrations and allow low-noise operation.
Model Name :
Model No :
Fan Dimensions :
Noise Level :
Fan Speed :
Airflow :
Connector :
Static Pressure :
Accessory :
Bearing :
Rated Voltage :
Amperage :
MTTF :
KAZE FLEX 120 SLIM PWM
KF1215FD18-P
120 x 120 x 17 mm / 4.72 x 4.72 x 0.07 inch
2.70 dBA ~ 30.40 dBA
300±200 ~ 1800±10%
8.28 CFM – 14.06 m³/h
50.79  CFM – 86.29 m³/h
4-Pin
0.056 ~ 1.35 mmH²O / 0.55 ~ 13.24 Pa
20 cm 4-Pin Extension Cable, 4 Mounting Screws
Sealed Precision Fluid Dynamic Bearing (FDB)
12V
0.20A
100,000 hours (25°C /  77°F)