The successor of the Fuma cooler, FUMA 2 is designed with new concept and inspiration. It utilizes dual Kaze Flex 120 fans with the Reverse Airflow concept, offering up to 15% cooling performance than the previous version. The asymmetrical and cutout design gives unlimited compatibility to RAM zoom. Six sintered heat pipes with dual radiators provide top-tier performance, an additional 3rd fan can be mounted to maximize cooling capability for the highest demand.
Dual heatsinks with thick copper heat receiving base plate and high-precision base structure molded according to the shape of each heat pipe ensure that the CPU heat generation is absorbed. The Fuma 2 is equipped with a Kaze Flex Slim 120 and a Kaze Flex 120. A wide-range RPM heat sink design that demonstrates optimal cooling performance for any rotation speed from low to high rotation. Support from extremely quiet mode to high-level overclocking!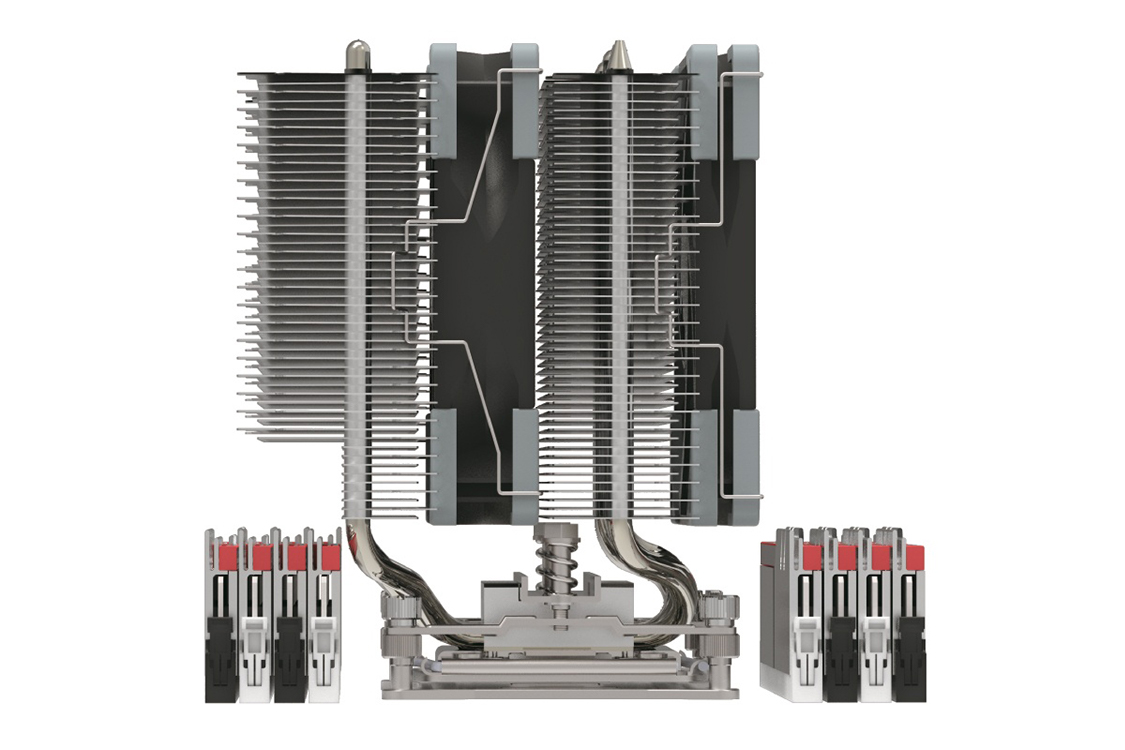 Thanks to its slanted heatpipes, the radiator is not centered above the baseplate, but slightly offset to the back. The asymmetrical twin-tower design allows for unrestricted use of any memory slots. The cut-out fin improves memory compatibility allowing installation of tall memory heatsink up to 55 mm for LGA2011 (V3) / LGA 2066 motherboards.
The two Kaze Flex 120 fans (25 mm & 15 mm) rotates in opposite directions, counterclockwise front and clockwise middle. It boasts high levels of cooling performance due to reduced air flow turbulence and improved air volume and electrostatic pressure characteristics. A third fan can be mounted to maximize cooling performance. Additional fan brackets are included.
The Fuma 2 CPU cooler uses the proven H.P.M.S III mounting system. A pre-assembled mounting bar with spring-loaded screws ensures balanced pressure distribution. During the installation, the adaptable backplate is securely held to the mainboard by rubberized spacers, making the process considerably easier. The mounting system offers full compatibility with all current sockets including  AM4 from AMD™ and LGA 2066 from Intel™.