The Kaze Flex RGB series combines the award-winning technology of the Kaze Flex fans with an optical revision and RGB LEDs. The all-black frame and decouplers emphasize the translucent fan blades illuminated by eight LEDs. A 4-pin 12V RGB connector allows regulation by standard RGB controllers. The outstanding performance of the Kaze Flex range remains untouched. The Sealed Precision FDB bearing ensures a service life of more than 120 000 hours.
Eight RGB LEDs arranged in a ring around the fan motor generate a consistent and powerful illumination of the translucent fan blades. The LEDs are operated by a standard 4-Pin 12V RGB cable that can be directly controlled by the common RGB system of various motherboard manufacturers.
Kaze Flex Series are equipped with a self-contained fluid dynamic bearing (Sealed Precision FDB). The bearing and the spindle are made entirely of high quality compressed metal and lubricated by a special oil film resistant to temperatures of up to 250C° / 480F°. This drastically reduces friction, ensuring smooth operation and minimized wear, which results in an average life-span of 120 000 hours.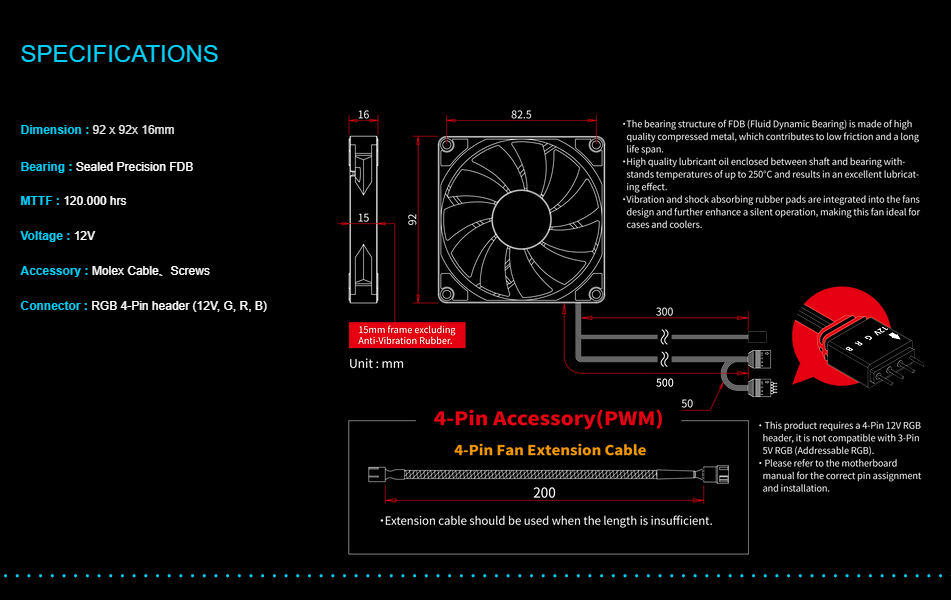 Model Name :
Model No :
Fan Dimensions :
Noise Level :
Fan Speed :
Airflow :
Connector :
Static Pressure :
Accessory :
Bearing :
Rated Voltage :
Amperage :
LED Amperage :
MTTF :
KAZE FLEX 92 SLIM RGB PWM
KF9215FD25R-P
92 x 92 x 16 mm / 3.62 x 3.62 x 0.62 inch
1.8 dBA ~ 23.2 dBA
300±200 ~ 2500±10%
4.96 CFM – 8.43 m³/h
44.3  CFM – 70.17 m³/h
RGB 4-Pin Header (12V, G, R, B)
0.02 ~ 1.36 mmH²O / 0.20 ~ 13.34 Pa
Molex Cable, Screws
Sealed Precision Fluid Dynamic Bearing (FDB)
12V
0.18A
0.12A
120,000 hours (25°C /  77°F)